2D X-Ray Equipment Cypher E
Features

Adding to the basic performance such as clear image acquisition and excellent operability, Cypher E is notable with its human- and environment-friendly functions. For example, simply align the positioning beam for an individual patient and the machine will synchronize, operating in tandem, resulting in smooth image acquisition without extra burden on the patient. After acquisition, the images are displayed on the chairside PC monitor in real-time using the digital X-ray image processing system. Various image processing functions enabled by the software provide the rich diagnostic information necessary for dental treatments, advanced dental care, optimum treatment direction, and an improved quality of Informed Consent based on a good relationship with the patient.

When patients are guided into an X-ray booth, the first thing they see is an X-ray unit. With its pearl white colored design, Cypher E gives luxurious, fashionable, clean and gentle impression to patients, with its smoothly curved contours, a sense of kindness.
From its design, Cypher E gives plenty of reassurance with care and comfort.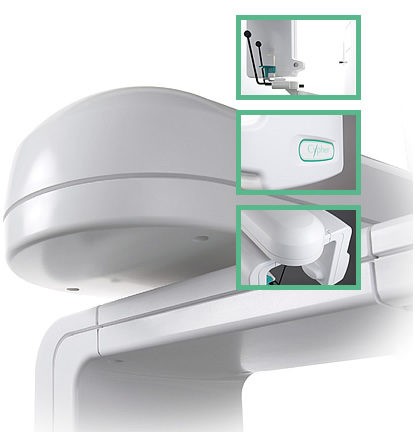 Panoramic Exposure
Panoramic exposure takes only 10 seconds.
Realized Speedy Operability
Operation panels are consolidated, in which intuitive, simple illustration are applied to buttons.
Deformable Mirror for Easy Positioning
Both patients and operators can check the positioning status, which easily enables accurate and quick positioning.
Automated Positioning using Beam
By using three beams (clear and easily visible mid beam, eye-ear plane beam, and anterior tooth beam), the unit operates in tandem. Smooth process flow from positioning to exposure works for minimized burden on both operators and patients.

Reduced Exposure Dose
The X-ray generator of the DC method ultra-high frequency inverter, minimizes softened X-ray generation and enables high quality image acquisition with a lower radiation dose. Further, the high-sensitivity digital sensor has realized exposure with an X-ray dose of less than 1/2 of that used for the conventional X-ray film.

Easy Exposure Configuration
Configuration of the exposure conditions is quite simple; just selecting the exposure mode and the patient size displayed on the PC monitor. Selection from various combinations of tube voltages (60 to 80 kV in 1kV step) and tube currents (2-8 mA in 1mA increments) always allows optimum exposure.

Exposure mode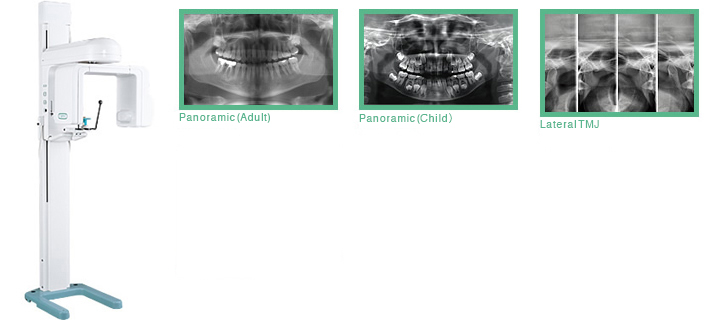 Tomosynthesis function
Acquisition of Panoramic images in Tomosynthesis mode provides image data with a slice depth of 30mm, enabling a clear view of the blurring of the anterior teeth image area by choosing an optimum slice position.
*For images of juveniles, the acquisition area of panoramic image data is different.

■ The optimum slice positions of the anterior teeth are automatically displayed from the image data with a slice depth of 30 mm.
■ The orbit of panoramic images can be adjusted for each of the anterior teeth and the left, right molars to obtain a set of images best matching the shape of the patient's dentition.
Changing and saving the panoramic image will overwrite the image with the changed orbit. Before saving, ensure that the panoramic image displayed on the screen is the image you wish to save.
■ Clearer images can be displayed using data from 31 images spaced at 1 mm intervals.