The all-in-one TM-2441 is here at last. This new device is equipped with a self-blood pressure measurement mode, a multisensor and a special algorithm to detect irregular heart rhythms. The TM-2441 can perform 5 types of self-blood pressure measurement in addition to ABPM measurement.
▶ Self-blood pressure measurement overview
OBP: Office Blood Pressure enables simple one-time measurement and display of results on the large LCD.
AOBP: Automated Office Blood Pressure can eliminate the effect of white coat hypertension during Office BP measurement.1 You can set the rest time, number of measurements and interval time.
HBP: Home Blood Pressure mode allows the monitor to be used for BP measurement at home in addition to ambulatory BP monitoring.
ASBP: Automated Self Blood Pressure uses an alarm to inform you when to begin blood pressure measurement at home.
ANBP: Automated Night Blood Pressure mode enables measurement of the blood pressure a set number of times at night.
The compact, portable TM-2441 is also excellent for spot measurement in wards. The multisensor allows temperature, pressure and activity to be measured simultaneously with ABPM measurement. This data is useful for analyzing the influence of the external environment on BP variability. IHB mode records detection of irregular heartbeats.2 Effectiveness has demonstrated by verification of AF screening for arrhythmia.3 The software that comes with the TM-2441 can analyze waveforms produced during measurement and easily determine blood pressure values.
▶ LED and OLED displays
| | |
| --- | --- |
| | OLED display: This display indicates ABPM behavior during use. You can confirm the ABPM measurement value and mode as well as the state of the battery, Bluetooth and memory. |
| | LED display: This large display shows data from measurements in self-measurement mode. You can easily check the time until the next ABPM measurement in addition to values in self-measurement mode. There are also icons for battery level, Bluetooth status, IHB detection, clock, mode and memory status. |
▶ Multisensor data analysis with new software (TM2441-16)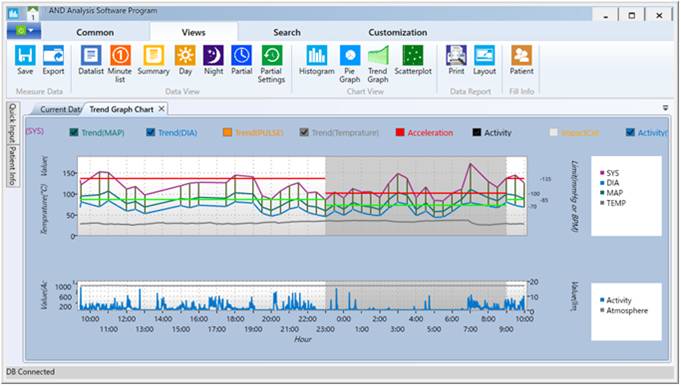 The newly designed
software can analyze environmental data collected by the multisensor in addition to ABPM measurement data. Temperature, pressure and activity can be graphed alongside blood pressure.
▶ Recording and displaying waveform data
The TM2441 series records blood pressure as an oscillometric waveform. With our new analysis software you can check the waveform record for each measurement. Quickly determine the accuracy of measured values.
▶ IHB (Irregular Heartbeat)
Irregular heart rhythms can be detected from noise or arrhythmia in the pulse interval during oscillometric measurement. When pulse fluctuations deviate from the average rate IHB is detected. Our IHB algorithm has been validated as effective for detecting atrial fibrillation.3
*The IHB detection function uses an algorithm for detecting pulse fluctuations. The I.H.B mark may display due to body movement not caused by arrhythmia.Features24 hour ambulatory blood pressure monitoring

 Self measurement
– OBP: Office Blood Pressure
– AOBP: Automated Office Blood Pressure
– HBPM: Home Blood Pressure
– ANBP: Automated Night Blood Pressure
– ASBP: Automated Self Blood Pressure


 Easy to use mode slide switch


 Lightweight and compact


 Oscillometric measuring method


 Automatically adjustment of proper cuff pressure, deflation speed and end of measurement


 New pulse correction algorithm for faster measurement & noise rejection


 Automatic or manual measurement


 Battery Power (2 alkaline or Ni-MH "AA")


 Configurable measurement intervals to adapt to a patient's specific requirements


 Output to data to analysis software (included with device)


 USB & BLE Connectivity 4OptionsTM-CF502A Extra large cuff for left arm (36-50cm)
TM-CF402A Large cuff for left arm (28-38cm)
TM-CF302A Adult cuff for left arm (20-31cm)
TM-CF202A Small cuff for left arm (15-22cm)
TM-CF802A Adult cuff for right arm (20-31cm)
TM-CF306A Disposable cuff (10 sheets)
AX-133024503-S Extra large cuff cover for left arm (10 sheets)
AX-133024663-S Large cuff cover for left arm (10 sheets)
AX-133024500-S Adult cuff cover for left arm (10 sheets)
AX-133024667-S Small cuff cover for left arm (10 sheets)
AX-133024353-S Adult cuff cover for right arm (10 sheets)
AX-133025103-S Extra large cloth for left arm (2 sheets)
AX-133025102-S Large cuff cloth for left arm (2 sheets)
AX-133024487-S Adult cuff cloth for left arm (2 sheets)
AX-133025101-S Small cuff cloth for left arm (2 sheets)
AX-133025104-S Adult cuff cloth for right arm (2 sheets)
AX-133025995 Carrying holder
AX-110B-20-S Clips (5 pieces)
Hypertension CANADA
Kazuomi Kario et al., Development of a New ICT-Based Multisensor Blood Pressure Monitoring System for Use in Hemodynamic Biomarker-Initiated Anticipation Medicine for Cardiovascular Disease: The National IMPACT Program Project. Send to Prog Cardiovasc Dis. 2017 Nov – Dec;60(3):435-449.
Tomoyuki Kabutoya et al., Diagnostic accuracy of a new algorithm to detect atrial fibrillation in a home blood pressure monitor. J Clin Hypertens (Greenwich). 2017 Nov;19(11):1143-1147.
SDK available for system integration
Blood Pressure Measurement
Measurement Method
Oscillometric
Measuring Range
Blood Pressure
SYS: 60~280 mmHg DIA: 30~160 mmHg
Pulse
30 ~ 200 bpm
Accuracy
Blood Pressure
+/- 3 mmHg
Pulse
+/-5%
Pressurization
Method
Micro pump
Automatic pressurization
85 to 299 mmHg
Depressurization
Method
Constant exhaust with controlled leakage valve for safety mechanism – Electromagnetic Valve
Interval Setting
OFF, 5, 10, 15, 20, 30, 60, 120 min.
Clock
24 hour clock, calendar
Memory Data
600 data max
Power Supply
Battery
2x LR6 (AA) type batteries – alkaline or Nickel-hydrogen type
Measurement count
200 times or more. It varies due to measurement conditions.
Display
A-BPM
OLED, 96 x 39 pixels, white characters
S-BPM
LCD, 40 x 50 mm, Display : systolic pressure, diastolic pressure, pulse rate, clock, error, status monitor and symbols
Interface
USB :
USB1.1 compliant.
Cable length : 1.5 m or shorter.
Micro-USB B type terminal can connect to dedicated peripheral (using standard driver software).
Bluetooth Ver.4.1 (BLE)
Wireless device can be connected.
Temperature & Humidity
Operating Temperature
10°C ~ 40°C (50°F ~ 104°F), less than 85% RH (non-condensing)
Storage & Transportation
-20°C ~ 60°C (1°F ~ 140°F), less than 95% RH (non-condensing)
External Dimensions
66(W) x 24.5(H) x 95(D) mm/2.6(W) x 1.0(H) x 3.7(D) inches
Weight
Approx. 135g (0.47lb) without cuff and batteries