The TM-2440 is a compact, lightweight ambulatory blood pressure monitor with an algorithm that can detect and record irregular heart rhythms (IHB mode). Effectiveness has been demonstrated through verification of screening for arrhythmia1. The software that comes with the TM-2440 can analyze waveforms produced during measurement and easily determine blood pressure values.
OLED displays
| | |
| --- | --- |
| | The OLED display indicates ABPM behavior during use. Easily check ABPM measurement values and the current mode in addition to the state of the battery and memory. |
▶ Data analysis with new software (TM2441-16)Easily download ABPM data from the monitor to a PC and analyze with the newly designed software.
▶ Data list downloaded from the device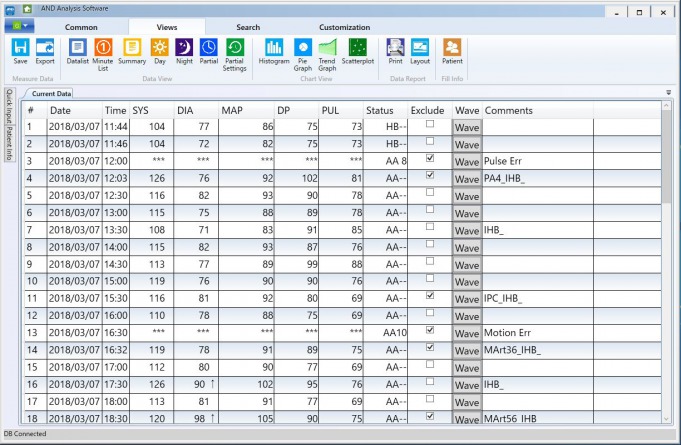 Data recorded by the TM2440 series is shown as a data list. Data appears as in the table above after download.
Trend Graph Chart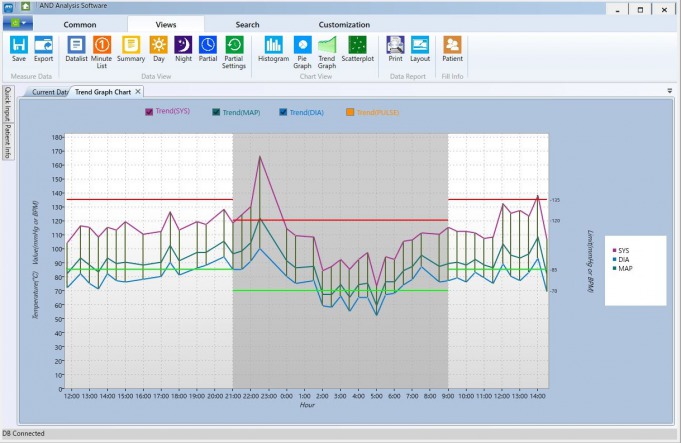 Data lists can be used to generate a trend graph chart similar to the one shown above. Night time is indicated in gray, giving a simple visualization of a patient's 24-hour BP biorhythm.
▶ Recording and displaying waveform data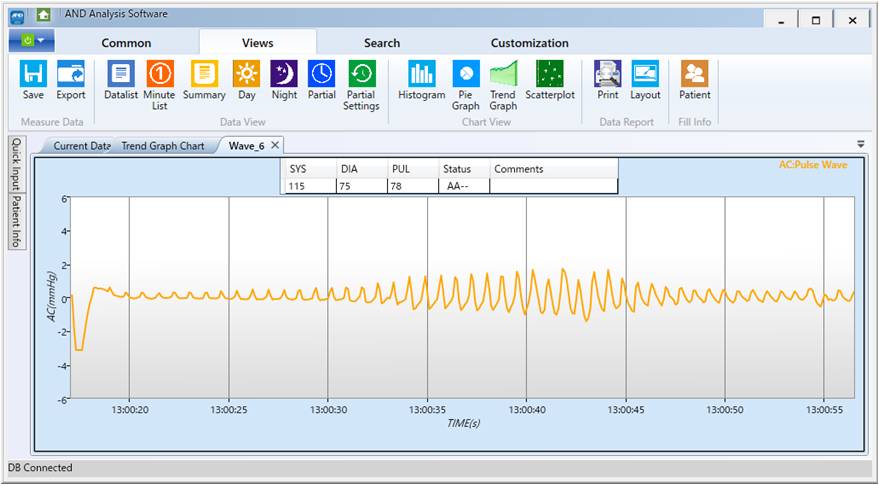 The TM2440 series records blood pressure as an oscillometric waveform. With the analysis software you can easily check the waveform record for each measurement. Quickly determine the accuracy of measured values.▶ IHB (Irregular Heartbeat)Irregular heart rhythms can be detected from noise or arrhythmia in the pulse interval during oscillometric measurement. When pulse fluctuations deviate from the average rate, IHB is detected. There is a thesis that IHB relates to AF1.
*The IHB detection function uses an algorithm for detecting pulse fluctuations. In some cases, the IHB mark may display due to body movement not caused by arrhythmia.
Tomoyuki Kabutoya et al., Diagnostic accuracy of a new algorithm to detect atrial fibrillation in a home blood pressure monitor. J Clin Hypertens (Greenwich). 2017 Nov;19(11):1143-1147.
Feautures

 24 hour ambulatory blood pressure monitoring


 Lightweight and compact


 Oscillometric measuring method


 Automatically adjustment of proper cuff pressure, deflation speed and end of measurement


 New pulse correction algorithm for faster measurement & noise rejection


 Automatic or manual measurement


 Battery Power (2 alkaline or Ni-MH "AA")


 Configurable measurement intervals to adapt to a specific patient requirements


 Easily output data to analysis software (included with device)


USB ConnectivityOptionsTM-CF502A Extra large cuff for left arm (36-50cm)
TM-CF402A Large cuff for left arm (28-38cm)
TM-CF302A Adult cuff for left arm (20-31cm)
TM-CF202A Small cuff for left arm (15-22cm)
TM-CF802A Adult cuff for right arm (20-31cm)
TM-CF306A Disposable cuff (10 sheets)
AX-133024503-S Extra large cuff cover for left arm (10 sheets)
AX-133024663-S Large cuff cover for left arm (10 sheets)
AX-133024500-S Adult cuff cover for left arm (10 sheets)
AX-133024667-S Small cuff cover for left arm (10 sheets)
AX-133024353-S Adult cuff cover for right arm (10 sheets)
AX-133025103-S Extra large cloth for left arm (2 sheets)
AX-133025102-S Large cuff cloth for left arm (2 sheets)
AX-133024487-S Adult cuff cloth for left arm (2 sheets)
AX-133025101-S Small cuff cloth for left arm (2 sheets)
AX-133025104-S Adult cuff cloth for right arm (2 sheets)
AX-133025995 Carrying holder
AX-110B-20-S Clips (5 pieces)
Blood Pressure Measurement
Measurement Method
Oscillometric
Measuring Range
Blood Pressure
SYS: 60~280 mmHg DIA: 30~160 mmHg
Pulse
30 ~ 200 bpm
Accuracy
Blood Pressure
+/- 3 mmHg
Pulse
+/-5%
Pressurization
Method
Micro pump
Maximum Pressure
299 mmHg
Depressurization
Method
Constant exhaust with controlled leakage valve for safety mechanism – Electromagnetic Valve
Interval Setting
OFF, 5, 10, 15, 20, 30, 60, 120 min.
Clock
24 hour clock, calendar
Memory Data
Up to 600 sets of data
Power Supply
Battery
2x LR6 (AA) type batteries – alkaline or Nickel-hydrogen type
Battery Life
Approx. 200 measurements
Interface
USB1.1 compliant Cable length: 1.5 m or shorter Micro-USB B type terminal can connect to dedicated peripheral (using standard driver software)
Temperature & Humidity
Operating Temperature
10°C ~ 40°C (50°F ~ 104°F), less than 85% RH (non-condensing)
Storage & Transportation
-20°C ~ 60°C (1°F ~ 140°F), less than 95% RH (non-condensing)
External Dimensions
66(W) x 24.5(H) x 95(D) mm/2.6(W) x 1.0(H) x 3.7(D) inches
Weight
Approx. 120g (0.26lb) without cuff and batteries