Slim, Palm-sized Remote Control
X-ray tube with a focal spot of 0.4 mm and our uniquely-developed inverter control method realizes high-precision image quality with a lower radiation dose.
An abundant equipment lineup allows optimum usage in X-ray booths in various conditions.
One-click operation can select film/IP/CCD, Adult/Child, and teeth No.
According to the desired image area, exposure time will be automatically set in seconds.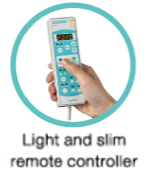 Light-weight and Compact X-ray Generator
X-ray generator weighs only 4.5 kg, and can be smoothly positioned over an exposure site. For detailed information on the compact, space-saving design, please check the installation area drawing in Specifications.